---
Final project meeting in Perth and Edinburgh
14th - 15th September 2022
The project team from across the partner countries met for the final time before the project ends. Representatives from Finland, Scotland, Iceland and Greenland all attended the meeting, either in person or digitally. Consultants from marketing agency DesignLine also came along, running a workshop on how to use the website and social media channels. As well as discussing how to wrap up this stage of Wonder Seekers, we also strategised how to continue the work we have begun with SCITOUR. It is not over yet and we are still interested in working with scientific tourism businesses. If you have ideas or for more information please contact Project Manager Ari Laakso at ari.laakso@ulapland.fi
---
Wonder Seekers blogs
The Wonder Seekers website hosts a travel blog giving interesting and insightful commentary from gust bloggers. Some highlights include a story by Annabel Prowse about training for the B.I.G North Pole expedition, and researcher Heidi Kontinnen's experience of a glacier trip in Greenland.
Check them out here https://www.wonderseekers.com/travel-blog/
---
Meetings and seminar in Rovaniemi
14th - 16th June 2022
This week the project partners met in Roveniemi, home of the Arktikum Centre where our lead partner is based. The big event of the week was a public seminar aimed at tourism entrepreneurs. 'Adventures in Science' introduced businesses to the project, the concept, and told them how they could get further involved. Charlotte Weston, from marketing consultants DesignLine in Scotland, was invited to give a keynote talk disucssing the opportunities for marketing and publicity available through the project.
---
'Watch Me See' Kathi Kamleitner on Wonder Seekers
---
Wonder Seekers social media
Did you know we have a range of social media where you can follow along with news and updates?
Wonder Seekers/ SCITOUR is on:
Facebook https://www.facebook.com/WonderSeekersAdventures
Instagram https://www.instagram.com/wonder__seekers/
Twitter https://twitter.com/wonderseekers
---
Business learning event in Scotland
28th - 29th March 2022
Small tourism businesses in Scotland met with the project team this week for two days of discussions and the opportunity to try out some scientific tourism experiences. The event began at the Ocean Explorer Centre in Oban, with displays relating to the marine environment, before the Hebridean Whale and Dolphin Trust hosted a coastal walk. The next day we all decamped to Fort William, where staff at the Lochaber Geopark ran a tour of local geological sites. Many different types of business and scientific discipline were represented including cetecean experts, archaeologists, historians, science communicators and tour guides. Throughout the event there were opportunties to discuss and exchange ideas about the potential of 'scientific tourism.' We were also joined by influencer Kathi Kamleitner who will be producing social media posts, a blog and two podcasts about the concept.
---
The Finnish and Icelandic partners meet in Iceland
15th - 17th March
Despite the storm, the Finnish and Icelandic partners were able to meet for several days this week to hold discussion sessions and meet some of the local tourism entrepreneurs based in the southwest of the country. THE team included environmental journalist Ana Botero who wrote a blog about this outstanding experience. Read it here https://www.wonderseekers.com/travel-blog/an-encounter-with-flaajoekull-glacier-in-iceland/
---
Wonder Seekers website launched
Our main project website has just launched at www.wonderseekers.com
Here you can browse the scientific tourism products that have been listed so far- we will keep adding to these- listed by country or by scientific discipline. If you are a business offering a relevant experience you can create a profile and, using an intuitive form, upload details of your own product. You will be given the opportunity to add your own website and booking details so that potential customers can contact you directly.
---
Project partners meet in Greenland
8th - 12th November 2021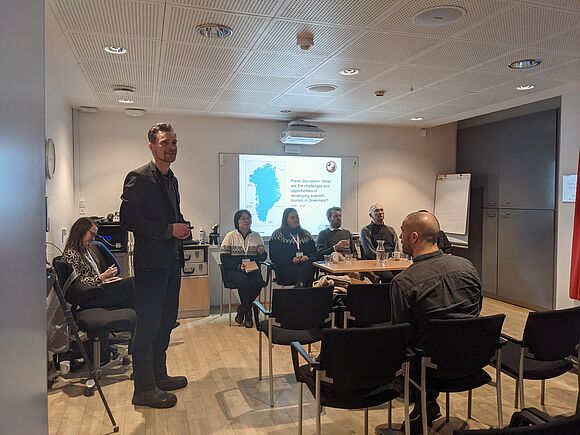 After a long hiatus caused by the Covid restrictions, the project partners were finally able to meet face-to-face. The first meetings took place in Nuuk to coincide with Greenland Science Week. As well as meeting to discuss strategy and next steps, we were able to participate in lectures and workshops taking place as part of the science festival, as well as hosting a workshop of our own aimed at local business owners and other tourism stakeholders such as DMOs to discuss the scientifc tourism concept and how it might work in Greenland. We also joined some boat excursions run by operators we work with locally.